Why Is Important To Maintain A Fire Escape?
Share on facebook
Share on google_plusone_share
Share on pinterest_share
Share on print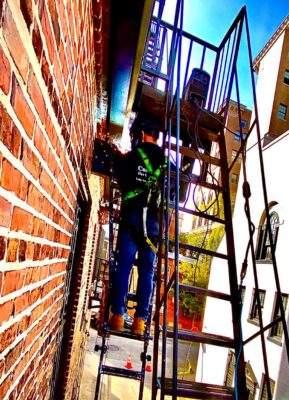 All forms of fire emergency ladders are instrumental in building safety, but it is essential to pay
particular attention to external fire escapes. As the article recounts a fatal situation in SoHo, a
fire escape inspection was being performed at the time of the incident. With the external fixture
in poor shape to prove that even a simple step was enough to send the fixture crashing to the
ground below, it is clear that fire escape maintenance was not maintained. With metal and steel
fire escapes, particularly external fixtures, it is imperative to regularly provide maintenance
such as fire escape repairs, maintenance, and necessary refurbishment of parts.
Fire escape ladders for apartments and multi-functional residences are vital factors
determining building safety. In fire emergencies, these fixtures are used as a means of a fire
escape, and they must be maintained in order to receive their fire escape certification
confirming that they are safe and functional. Depending on the size of the building, other
methods such as ground-level fire escape exits and external egress ladders can also be
utilized to get tenants to safety. Still, the external fire escape systems such as ladders and
balconies, primarily comprised of metal, can quickly become victim to weathering over time
and prove to become as much of a danger as the fires they were built to guide people from.

As seasons are changing and weather patterns continue to flow, it is important to consider the
effects that this has on your external fire escape fixtures (ladders, balconies, etc.) and ensure
that they are kept in a durable shape to not only maintain and inspect them as well, but also
maintain the weight of people utilizing them in time of emergency.
Why use Us?
Certifying fire escapes with a focus on your safety in the event of an emergency.
East Coast Fire Escapes is one of the Eastern Seaboard's leading fire escape companies that can take care of all your fire escape needs. Whether you have received a violation from the city or just want to make sure your fire escape is safe, East Coast Fire Escapes is ready to help make a complicated process easy and affordable. Our team is knowledgeable and has over ten years' experience working in the industry. Our goal is to keep every fire escape in safe working order and to assist building and homeowners through the process of repairing and maintaining their fire escapes.
Contact us today or call us (551) 697-8643 to schedule a repair or scrape and paint quote. Estimates are always FREE.